Beauty, grace and style. The very essence of what a desert horse should be, brought to life in the stallion, El Katib.
El Katib: Arabian Perfection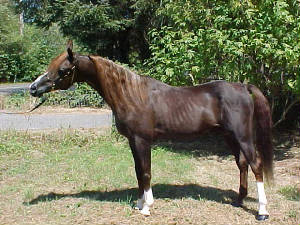 Katib is 93% American/foundation, Al Khamsa and Egyptian-related. His pedigree is full of champions- El Hadiyyah, Huckleberry Bay, Ansata Ibn Halima and others.He passes all of his great qualities on to his foals, including his extreme type, athleticism and awesome disposition. He is a sabino carrier also. Katib stands 14.3h. Breeding fees are $500, which includes a $100 booking fee and first nomination into the Nor-Cal Futurities. For the breeding year 2003 shipped semen will not be available. For a stallion contract, click the link to the left. For more information on Katib: photos, pedigree, video, etc, please email me at Valhallaeqctr@msn.com.

Thank you for your interest in this great stallion.
Ansata Ibn Halima
El Hadiyyah
Ansata Jellabia (by Ansata Ibn Sudan)
El Katib
Huckleberry Bay
TFE Dear Abi (6 crosses to Mirage)
Gallatna (by Ibn Lutan)
El Mansour Son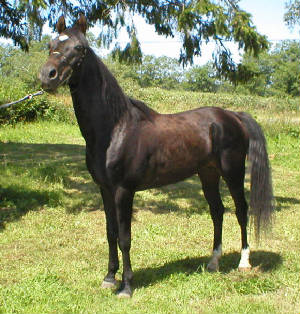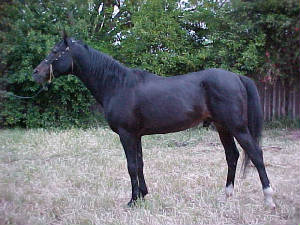 El Mansour Son (Black) is our senior stallion. He is by Fakher El Mansour, a grandson of Fakher El Din and Druzba, and a great grandson of both the great Ansata Ibn Halima and Naborr. Nazeer appers twice in the 5th generation. He posesses great athleticism and endurance along with a willing, trainable mind and superb disposition. He has some of the great old blood. So far, he has never produced a red foal. Black stands to approved mares for the fee of $500. Booking fee of $150 applies to stud fee. For more information, please email me and I will send more information.