JJ cats Mordecai of Valhallascats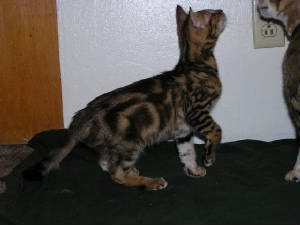 Mordecai is an awesome marble. Tri colored, soft pelt and tons of glitter. He is clear coated, has a whited tummy, nice wild head and long body. The centers are falling out of his pattern and his shoulders have a very unique look. He is a big snugglebug, always wanting to cuddle. He likes to take care of the babies and play with them too. He will be shown on the west coast as an adult. We expect great things from this little guy.
RA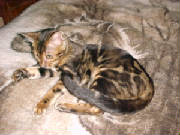 Tailwinds Amon Ra of Valhallascats
Ra is a great cat with lots of substance. Small ears, soft pelt dripping with glitter and a striking pattern make him a great asset. He passes these wonderful qualities on to his kits along with his top notch disposition.
Kahlua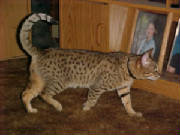 Heartfelt Kahlua of Valhallascats
Kahlua is back with us. I will be using him to breed to select queens. Right now, he is our only spotted stud! Kahlua has a great disposition, great pedigree, wild look and tiny ears. He consistently produces better than himself, and we are happy to have him back here with us.
Upcoming studs